Glendale infiniti services infiniti repair you can trust
Our services
Once you purchase an INFINITI vehicle, you want to take care of it to ensure it's reliable and ready to go when you are. Glendale INFINITI follows up our exceptional sales with superior service to maintain your INFINITI model. We provide premier service for customers in Glendale, Burbank, Pasadena, Hollywood, and Los Angeles for new and used INFINITI models.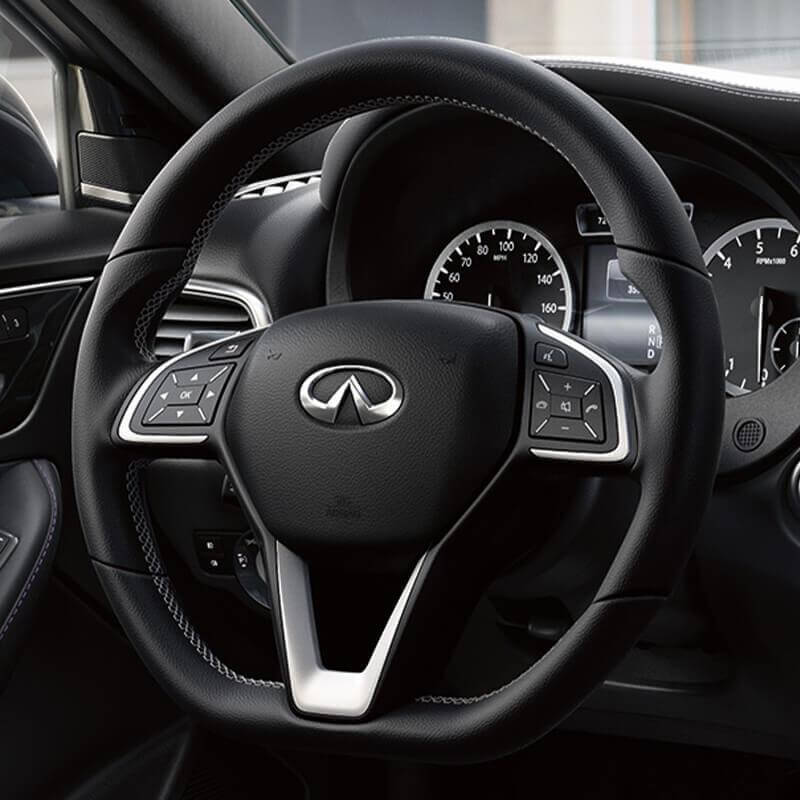 Get infiniti service discounts in glendale
Our service team takes care of routine maintenance to ensure your vehicle stays in prime condition. We offer oil changes, tire rotations and wheel alignments according to manufacturers' recommendations. If you keep your vehicle long enough, you'll need to have some repair work done. Our service team uses only OEM parts to ensure high-quality performance for the long-term.
Dedicated service experts
Our certified INFINITI technicians are trained on INFINITI technology and systems and understand the unique ways they function. Because they work on INFINITI models every day, they know how the systems work and can make repairs quickly and expertly. Schedule an appointment to bring your car in around your life and other obligations. You can sit in our comfortable waiting room which is heated and air-conditioned and even comes with refreshments. If the work is going to take a little longer, our shuttle service will take you back to your job or home until the repair is finished.
Dedicated service experts
Don't take your INFINITI vehicle to just any mechanic. Trust it to the certified INFINITI technicians who know INFINITI vehicles and can provide outstanding service for every model. Visit Glendale INFINITI service department for fast, high-quality repairs to get you back on the road in no time.
Learn More About Services We Offer
Service Department for Glendale INFINITI
Take care of that INFINITI QX50 and keep it running like new with regular service. You can trust the service department at Glendale INFINITI to maintain your vehicle and to make any repairs needed. The service technicians are trained and certified on INFINITI models. Our team provides a full range of services to keep your INFINITI running like a dream.
From routine service to major repairs, we'll keep your INFINITI running and providing reliable transportation. We take care of recalls, warranty work, preventative maintenance and major repair work.
Service Center
Keep your INFINITI in prime condition with regular service and maintenance. Don't trust just any mechanic with your car or SUV. You want to take it to a service center with expertise on INFINITI technology. Here at Glendale INFINITI, we strive to exceed your expectations with exceptional customer service to go along with our quality of work.
Our technicians are trained and certified on INFINITI technology. We use the latest diagnostics equipment to identify any issues while modern equipment helps us get the repair fixed as quickly as possible. Our technicians provide a full range of services based on manufacturer's recommendations to help keep your vehicle offering optimal performance and efficiency.
If you live or work in Glendale, Santa Monica, Beverly Hills, or nearby cities, we'll take care of all your maintenance and repair needs. We know your time is valuable, which is why we offer pickup service. We'll pick up your vehicle and drop it back off once we've serviced it. We also let you know once we've determined what repairs are needed and provide an estimate of the cost for repairs.
We provide a full range of services:
Oil and filter change
Fluid check and refill
Brake inspection
Inspection of belts and hoses
Tire tread check and pressure test
Flushing of cooling system
Flushing of transmission and repairs
HVAC repair
Steering and suspension repair
Engine repairs
Whatever your INFINITI needs, you can give us a call.
Keep your INFINITI running like it should with the best service at Glendale INFINITI. Contact us to Schedule Service whenever it is most convenient for you, whether you want to bring it in or have us pick up your vehicle if it better suits your busy lifestyle.
Parts Center
Whether you like to do your own repairs and maintenance, or you want to dress up your INFINITI, you'll find the right parts here at Glendale INFINITI in our parts department. We carry a large selection of parts for every model. Show off your personality with special exterior accessories and add to your luxury with interior accessories.
We keep many parts in stock, but we'll order any specialty parts that we don't have. Our parts team will help you know which parts you need for your INFINITI. You can count on us for parts for your cooling and electrical system, brakes, HVAC, engine repairs, suspension and steering, and more. We make it easy to do your own repairs with genuine INFINITI parts that work with your model for optimal performance and efficiency. There are no alterations needed because the part is designed to fit with your system. Stop in or give us a call if you're in need of a part to get your INFINITI back up and running.
Oil Change
An oil change is one of the most basic maintenance tasks to provide for your vehicle. And yet, it's also one of the most crucial. Regular oil changes will improve performance and efficiency while extending the life of your vehicle. When you have the oil changed regularly, it also helps to maintain the value of the vehicle.
The oil plays an integral role in operating the engine by lubricating all the moving components to reduce wear and tear. When the oil gets dirty and used, it is less effective at its job and can make the engine work harder than it should be. The oil filter keeps out the grime and road debris from the engine, which can cause damage. Another bonus of getting your oil changed at Glendale INFINITI is the multi-point inspection. The service technicians will check over your vehicle and let you know of other parts that need replaced or services that are due. This inspection only takes a few minutes, but it can alert you to services your vehicle needs to keep it running dependably for you.
If you fail to get your oil changed, you could end up causing severe damage to your engine. You can also void the warranty on your vehicle if you don't maintain it correctly.
It only takes a few minutes for an oil change. You can sit and wait in our comfortable, contemporary waiting area. You can also drop off the vehicle and have our shuttle take you to work or home until the vehicle is ready to go. No appointment is necessary, so you can stop by when it fits into your busy schedule.
Brake Service
Your brakes are one of the most critical elements for a vehicle. When working properly, they can help you stop quick enough to avoid an accident. However, they wear down over time from constant use. The brakes must be inspected regularly to know when it's time for a replacement. The service team at Glendale INFINITI will provide a fast brake inspection.
It only takes a few minutes for our technicians to tell if the brakes need to be replaced. You can also tell if the brake warning light is on or if you hear grinding or squealing noises when you press down on the brake pedal. If the vehicle takes longer to stop than usual or it pulls to one side, you need to have your brakes checked. Our team will replace the brake pads and rotors as needed. Don't delay if you notice an issue with your brakes. If the brake pads aren't replaced when they get worn, it can cause more damage to the rotors, which are more costly to replace. Trust Glendale INFINITI to keep your brake system working and providing the protection you expect.
We offer a selection of brake pads and other parts in a range of prices. All parts are designed to fit your model and to work with the other systems on your vehicle. Modern braking systems include special safety sensors and other features to automatically apply the brakes in certain situations. The service technicians stay up to date on these complex systems to ensure accurate repairs when a problem arises.
Alignment
Your tires are designed to provide a stable ride on pavement. However, they can get out of alignment, which can cause them to be less stable and for the tread to wear faster. Alignment measures how the tires touch the road. If the wheels have changed from the factory specs, they need to be readjusted. Many things can cause your wheels to be misaligned, such as hitting potholes and speed bumps, getting in an accident, or driving over gravel. Left alone, it will cause the tires to wear on one side faster and the vehicle to shake when you drive and be harder to steer. You will also face a greater risk of a flat tire while you're driving.
Glendale INFINITI provides two- and four-wheel alignment to get the wheels back to factory specifications. We use the latest equipment to ensure everything meets manufacturer's standards. You can give us a call to schedule an alignment for your INFINITI.
Tire Rotation
A tire rotation is an important part of car maintenance. It keeps your tires performing at their best and extends their life. Getting tires rotated is a quick, easy process that will have you back on the road in no time. The tires are designed to hit the pavement in a specific way, which may cause them to wear in different ways. The inside or outside may wear down faster, which is why rotating them is critical. Once the tires are rotated, they will wear in a different way to ensure the end result is more even wear. You can contact the service team at Glendale INFINITI for tire rotation today. When we rotate your tires, we'll also look at tire pressure and tread. We let you know if your tires need to be replaced before you have a flat.
No matter what service your INFINITI needs, you can trust Glendale INFINITI to do the job. Our service department is here for you to make maintaining your vehicle easy and straightforward. Regular maintenance can extend the life of your INFINITI and maintain its value when it is time to trade it in or sell. Contact Glendale INFINITI for your INFINITI care and maintenance.